INVESTORS
Executive Summary
MD Jay Shields with Crawford Gillies Chairman of Scottish Enterprise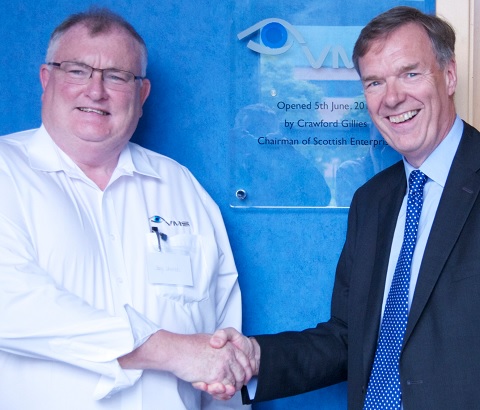 Visual Management Systems Ltd. leads the field in the provision of Intelligent IP Integrated Video Management & PSIM (Physical Security Information Management) solutions. Our product portfolio is firmly based in safeguarding key defence, critical national infrastructure and other high value locations.

Making full use of the latest advances in digital video surveillance, data analysis, Video Content Analysis (VCA), electronic and physical sensor technologies, and by utilising the latest high definition camera technology, we focus on combining innovative solutions with a thorough understanding of real customer operational requirements and priorities.
Our unique consulting-led methodology, applying an objective, problem-solving approach to the issues and problems our customers face, allows us to propose fit-for-purpose and cost-effective technological and practical solutions to a wide range of applications and business environments.
The ability to apply technical innovation and tried-and-tested practices to project design, whilst understanding budget constraints, sets Visual Management Systems Ltd. apart from the competition.
Visual Management Systems Ltd. is a British Private Limited Company (registration No. SC169482) with its head office in Glasgow, Scotland. The company was founded in 1996 and has been specialising in Video and IP Video Management since its conception, gaining an enviable reputation and the respect of its peers within the industry.
With a twenty four year track-record of innovative development, technical expertise and industry knowledge, the company is the partner of choice for some of the most successful organisations in the security and safety sectors.
Working closely within the Energy, Utilities, Border Security and Defence Sectors, plus National and Local Police Forces, Public Space Security and the Prison Service, we provide sophisticated state-of-the-art integration and a range of specialist technological services, offering tailored solutions to their specific needs. Our engineers and developers have gained a unique insight into the core requirements of our customers, building on an unparalleled and established platform to create some of the most challenging deployments in the world.
Having grown year-on-year and with exciting plans ahead, Visual Management Systems Ltd. is proud to count some of the world's leading business and organisations as its customers and is committed to building long-term and fruitful relationships with both customers and integrators alike.
Moreover, having built close ties with academic institutions such as Strathclyde and Leicester Universities and with the support of UKTI, Scottish Enterprise and other national and international bodies the company is assured of further ?investment, growth and success in the future.